Flu Vaccine Update
The 2023 flu vaccination service is available from September. Please check back for available appointments.
Flu Vaccine Bookings
---
Covid-19 Vaccine Bookings
How It Works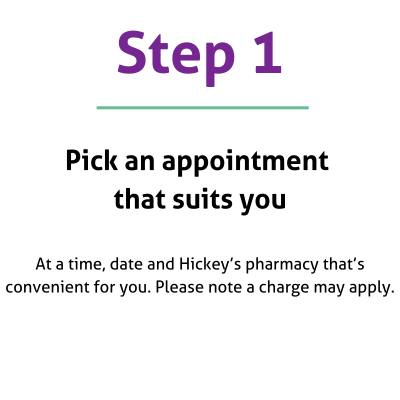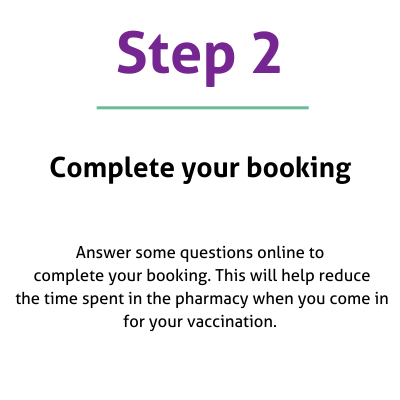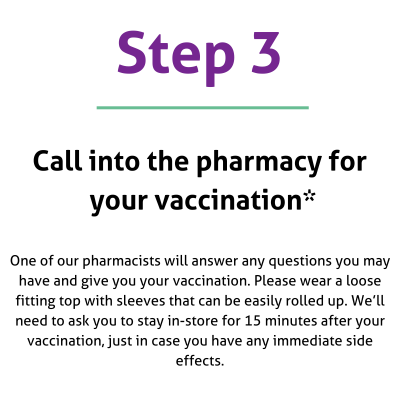 What is seasonal flu (influenza)?
Flu is a common infection of the upper respiratory tract caused by the flu virus. It usually occurs during the winter months. For most people, it is an unpleasant but not a life-threatening illness.
What is the flu vaccine and how does it work?
There are a number of different variations of the flu virus in circulation each year and the type of flu virus in circulation can change each year. This is why a new flu vaccine needs to be given every year. The flu vaccine helps your immune system to produce antibodies to fight the flu virus. When someone who has been vaccinated comes into contact with the virus, these antibodies attack the virus preventing infection.
Who should get the flu vaccine?
Anyone over the age of 2 is eligible to get the vaccine at your Hickey's Pharmacy. For certain 'at-risk' groups, the flu vaccine is highly recommended.
The vaccine is FREE to everyone in the at-risk groups listed below:
All those aged 65 years and over

All children aged 2-12 inclusive

All pregnant women, at any stage of pregnancy

Chronic respiratory disease including cystic fibrosis, moderate or severe asthma, COPD

Chronic heart, renal (kidney) or liver disease

Chronic neurological disease including multiple sclerosis

Diabetes mellitus

Haemoglobinopathies such as sickle cell anemia

Hereditary and degenerative disorders of the central nervous system etc.

Cancer patients

Residents of nursing homes and long stay institutions

Children with conditions that compromise respiratory function eg. spinal cord injury, seizure or other neuromuscular disorder

Morbid obesity ie. Body Mass Index (BMI) over 40

Those who are immunosuppressed due to disease or treatment including those with missing or non-functioning spleens

Healthcare workers

Carers of persons with increased medical risk

Household contacts of persons with increased medical risk

People who have close, regular contact with pigs, poultry or water fowl

Down Syndrome

Children on long-term aspirin therapy
Eligibility criteria are subject to change by the HSE, ask in store for details.
Who is the vaccine not suitable for?
Those with a history of severe allergic reactions to a previous dose of the vaccine or any of its ingredients.

Any one on certain combinations of medicines that affect the immune system.
How much does it cost?
For those in the 'at risk' groups listed above the vaccination is free of charge. If you are not in any of the at-risk groups the charge is €37
How can your Hickey's Pharmacist help?
Your Hickey's Pharmacy Team can provide vaccination in our private consultation room in
the pharmacy. They can then either give you the vaccine or book you in for an appointment at a
time that suits.
What can I expect when I get the vaccine?
You will be protected about two weeks after having the vaccine. The flu vaccine cannot give you the flu.
There is still a small chance of you catching the flu but it is likely that symptoms won't be as severe if you are vaccinated
Are there any side effects?
The side effects are usually very mild with some people experiencing a mild fever, feel tired or aches and pains. There can also be soreness, redness or swelling at the site of the injection.
In very rare cases severe allergic reactions can occur. We are prepared to deal with these and ask you to remain in the pharmacy for 15 minutes after your vaccination, in case you have any immediate side effects.
To find out more about the Flu Vaccine, visit your local Hickey's Pharmacy.
Free Flu Nasal Spray for Children
All Children aged 2-12 years and children aged 13-17 in an at-risk group are eligible for a Free Flu Nasal Spray. The flu vaccine helps to protect children against flu. Most children who get the flu have mild symptoms. But children and young people with chronic health conditions are at risk of serious complications from flu. In the last 10 years in Ireland, almost 5,000 children were admitted to hospital with complications of flu. Almost 200 children had treatment in intensive care and 40 children died. Children can catch and spread flu easily. The children's flu vaccine can help to prevent the spread of flu in schools and at home. This keeps everyone safe.
Onsite Flu Vaccination Programme for National Schools
The National Immunisation Advisory Committee (NIAC) have recommended influenza (flu) vaccination for all children aged 2-12 years. A key HSE goal is to increase the overall uptake of flu vaccinations in children aged 2-12 years. This is because children play a key role in the transmission of flu and may pose a threat to those who are at higher risk of complications from flu such as the elderly, those who are pregnant or other children with underlying conditions. Children are offered a nasal spray as it is quick, painless and is more effective than an injected vaccine.
Vaccination in schools will increase the uptake rate and ensure a successful flu vaccine campaign, which will help to protect the vulnerable members of our community. All of our experienced vaccinators are qualified pharmacists who have undertaken specialist training. We will organise all the appointments, paperwork and the consent forms using our online portal. Schools will have a dedicated coordinator who will act as a single point of contact for the school to answer any queries they may have from parents/staff. If you would like to set up a vaccination day within your school or if you have any questions on the service, please email Jacqui Leonard.
Corporate Business Winter Flu Vaccination
To find out more about the corporate Flu please email Jacqui Leonard.
How do I book an appointment?
Please click above to access the booking tool. If there is no availability please check back soon.
*Vaccination service subject to specially trained pharmacist and stock availability. Selected stores only. A charge may apply. Ask your Hickey's Pharmacist for details. Eligibility criteria applies.
---
Quadrivalent Influenza Vaccine (split virion, inactivated) Sanofi
Influvac Tetra Vaccine (surface antigen, inactivated)
Fluenz Tetra nasal spray (For 2-12 years old only)