Hickey's Pharmacy opened its first pharmacy in Northside Shopping Centre, Dublin in 1995. Since that time, Hickey's Pharmacy has grown and expanded its range of services in response to the changing needs of communities.
---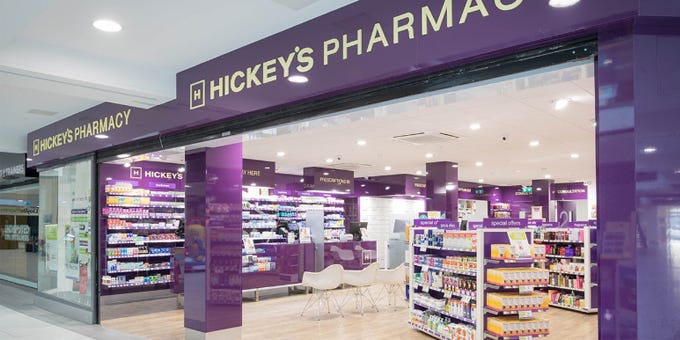 ---
We have a strong customer focus and now employ over 350 people in 39 stores throughout the country, serving the greater Dublin area, Navan, Dundalk, Drogheda, Maynooth, Newbridge, Gorey and Cork City. Hickey's Pharmacy plays an integral role in the communities we serve, working alongside GP's and other healthcare professionals.
At the heart of everything we do are our Core Values:
• Caring for our Customers above all else
• Always doing what we say we'll do
• Always Professional
• Ambitious in everything we do
• Teamwork
On 1st December 2020, Uniphar Group completed the purchase of the Hickey's Pharmacy Group.
The acquisition of Hickey's Pharmacy aligns with Uniphar's strategy to continue to invest and build a best in class offering for community pharmacy. The acquisition of Hickeys Pharmacy Group adds 36 thriving community pharmacies to Uniphar's network of owned, franchised and supported stores. The Hickey's Pharmacy stores are primarily located in Dublin and Cork and their commuter belts, complementing Uniphar's existing locations under the Life and Allcare brands.